Change the layout of the search result page and new functions have been added
Thank you for using Milestone's services.
The layout has been changed and new functions have been added to the search result page of the EC site operated by Milestone.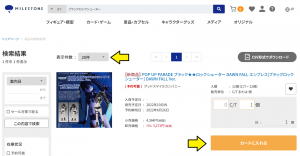 ・ It is possible to change the number of items displayed on one page.
・ Multiple products can be added to the cart at once.
* The "Add to Cart" button will be displayed after logging in.
・ The display layout has been changed.
If the new functions do not work well, please try to clear the cache of the browser with "Shift + Ctrl + R" etc.
Please refer to the following pages for how to clear the cache of the browser.
Chrome: Clear cache and cookies
https://support.google.com/accounts/answer/32050
Firefox: How to clear Firefox cache
https://support.mozilla.org/ja/kb/how-clear-firefox-cache
Apple: Clear browsing history and cookies from Safari on iPhone, iPad, and iPod touch
https://support.apple.com/ja-jp/HT201265
Should you have any queries, please feel free to contact us via the inquiry form or the sales representative.
Thank you for your support.