【10/7 Updates】 TOP Page of EC Site has been renewed
【10/7 Updates】
If the search form on the EC site does not work properly, please try to clear the browser cache with "Shift + Ctrl + R" and the searching form may work properly.
Please refer to the following pages for how to clear the browser cache.
Chrome: Clear Cache & Cookie
https://support.google.com/accounts/answer/32050
Firefox: How to clear Firefox Cache
https://support.mozilla.org/ja/kb/how-clear-firefox-cache
Apple:How to clear browsing history and Cookie in Safari on iPhone、iPad、iPod touch
https://support.apple.com/ja-jp/HT201265
Thank you for your continued support.
The top page of MILESTONE EC site has been renewed.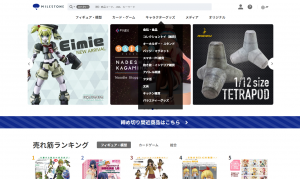 Product categories have been subdivided to make it easier to get to the products you want.
In addition, we are improving the UI to enhance the visibility of products which closing to the deadline and according to their rankings.
Should you have any query or concern while using our service, please contact us by using the inquiry form or by contact to the sales representative.
We will continue our efforts to improve our services.
Thank you for your support.